FUN FACTS & HISTORY

ACROSS THREE CONTINENTS...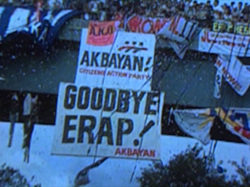 Corky's Hot Ice spans three continents. The backdrop is the real-life People's Power II ("Edsa Dos") protests of the Philippines in 2001 that resulted in the peaceful removal of the country's president Joseph Estrada ("Erap"). Movie viewers are treated to actual footage of the event and pictures from earlier Philippines history. Corky's Hot Ice then shifts to modern-day California where most of the action takes place, and eventually to Paris for one of the surprising plot twists near the end.

---
YES, GUERNEVILLE IS A REAL PLACE.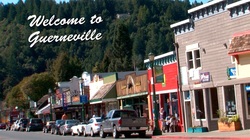 Guerneville is a small wooded resort town about 90 minutes drive north of San Francisco. It is famous for its annual big-name
Russian River Jazz & Blues Festival
. It is a very gay friendly town, and it hosts the annual
Sonoma County Gay Pride event
. Some of
Corky's Hot Ice
was filmed there when the
Russian River Resort
still had its famous purple doors and sign, and when the theater-turned-
Club Fab
was in operation. Several members of the Russian River Sisters of Perpetual Indulgence appear in the movie.
We love the Sisters!
They do valuable charitable work and deserve our support. (Click their picture below right for more information).
---
A LITTLE CORKY HISTORY

Corky's Hot Ice received an official city commendation from the mayor of Milpitas, California for the movie's message about "love, diversity, and innocence through humor." An official Corky's Hot Ice day was proclaimed in the city! It is a rare honor for any film.
"I wanted to convey that beauty is expressed in many ways by many people," says writer/director Tore Dahlin, "and we should enjoy it all. That's the message behind the 'Can You Tell the Difference Game.' In the end, gender differences don't matter--what matters is the beauty we create. We can all feel good being who we are."

Pictures:
Declaration of "Corky's Hot Ice Day" Theatrical Premier Dancers at Club Fab

---